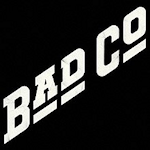 The self-titled album "Bad Company" is the debut album by the English rock band Bad Company, released June 26, 1974. The album, produced by the band and engineered by Ron Nevison, features the band's signature blues-based hard rock sound. The album was recorded at Headley Grange with Ronnie Lane's Mobile Studio in November 1973, and was the first album released on Led Zeppelin's Swan Song Records label.
The album contains eight tracks, including the hit singles "Can't Get Enough" and "Movin' On." "Can't Get Enough" was a major hit, reaching number 5 on the US Billboard Hot 100 chart, and becoming one of the band's most popular and enduring songs.
Other standout tracks on the album include "Rock Steady," "Ready for Love," and "Bad Company," which have also become fan favorites over the years. The album's sound and production were widely praised by critics and fans alike, and it helped establish Bad Company as one of the leading hard rock bands of the 1970s.
The "Bad Company" album is a classic example of 1970s hard rock, with its bluesy guitar riffs, powerful vocals, and catchy hooks. It remains a landmark album in the band's career and in the history of rock music.
Bad Company genealogy and discography
Explore Bad Company music on Amazon...