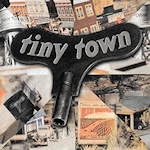 The American rock-blues band Tiny Town was formed in 1997 by "Tiny Town Residents" Pat McLaughlin (vocals, guitar), Tommy Malone (guitar, vocals), Johnny-Ray Allen (bass) and Kenny Blevins (drums). The group recorded only one album, the eponymous "Tiny Town", produced by ex-Eagles guitarist Bernie Leadon, in 1998.
Malone and Allen were former members of The Subdudes (usually seen lowercase as just "subdudes"), a New Orleans-based roots rock band formed in 1987 whose sound blended folk, swamp pop, New Orleans R&B, Louisiana blues, country, cajun/zydeco, funk, soul and gospel. Subdudes had disbanded in 1996.
McLaughlin is a Nashville-based songwriter who found early success in the 1980s with hits such as "Lynda", recorded by Steve Warriner, and "Tell Me About It" by Tanya Tucker and Delbert McClinton. Other McLaughlin compositions have been recorded by numerous artists including Bonnie Raitt, Alan Jackson, Taj Mahal, Trisha Yearwood, Al Kooper, Nanci Griffith, Josh Turner, Gary Allan, Shawn Camp and Don Williams.
Drummer Kenny Blevins, a Louisiana native, has been involved with more than 80 albums in his music career. Though best known for his work with John Hiatt and Sonny Landreth, he also has performed with Li'l Queenie and the Percolators, and The Continental Drifters.
Allman Brothers and Dickie Betts Band veteran Johnny Neel majorly contributes to the album on Hammond B-3 as a "Tiny Town Guest".
The album was praised for its musicianship and polish but criticized for a lack of cohesive style. It is still quite listenable, nonetheless. Highlights on the album include the opener "I'm Sorry Baby" and "Save It For A Rainy Day". "Hollywood" has a distinctly Steely Dan-ish feel to it. The swampy "Follow You Home" from the album was featured on NBC's "Homicide." The funky title track "Tiny Town" closes out the album.
Explore Tiny Town music on Amazon...