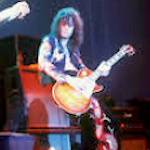 Jimmy Page is an iconic English guitarist, songwriter, and producer who is best known as the founder and leader of the legendary rock band Led Zeppelin. Born on January 9, 1944, in Heston, Middlesex, England, Page is widely regarded as one of the greatest and most influential guitarists in the history of rock music.
Early Life and Musical Beginnings:
Jimmy Page developed an interest in music at a young age and started playing the guitar as a teenager. He was primarily influenced by blues guitarists such as B.B. King, Albert King, and Elmore James. As a teenager in the 1950s, he joined a "skiffle" group, playing a type of folk music popular in England at the time.
Before forming Led Zeppelin, Page gained recognition as a session musician and played on numerous recordings for artists like The Kinks, The Who, and The Rolling Stones. He also worked as a member of the Yardbirds, a prominent British rock band of the 1960s.
Formation of Led Zeppelin:
In 1968, Page formed Led Zeppelin, a groundbreaking rock band that would go on to become one of the most successful and influential bands in history. The original lineup included Robert Plant on vocals, John Paul Jones on bass and keyboards, John Bonham on drums, and Jimmy Page as the lead guitarist.
Musical Style and Contributions:
Jimmy Page's guitar playing is characterized by his virtuosity, creativity, and diverse range of styles. He blended elements of blues, rock, folk, and psychedelia to create a unique sound that defined the sound of Led Zeppelin.
He was known for his innovative use of guitar effects, such as the violin bow technique, which he used to create distinctive sounds on songs like "Dazed and Confused."
Page's iconic guitar riffs, solos, and compositions played a crucial role in shaping Led Zeppelin's sound and making them one of the most influential rock bands of all time. Songs like "Stairway to Heaven," "Whole Lotta Love," and "Kashmir" are considered timeless classics.
Songwriting and Production:
Along with his exceptional guitar skills, Page was also a prolific songwriter and producer. He co-wrote many of Led Zeppelin's songs with Robert Plant, and his production work on their albums showcased his meticulous attention to detail.
Page's production techniques often involved layering guitars and experimenting with various studio effects, resulting in a rich and textured sound. His production work contributed significantly to the band's sonic identity.
Achievements and Legacy:
Led Zeppelin achieved enormous commercial success, selling over 300 million records worldwide. They released iconic albums like "Led Zeppelin," "Led Zeppelin II," "Led Zeppelin IV," and "Physical Graffiti," among others.
The band's live performances were legendary, known for their energy, improvisation, and extended instrumental jams. Page's guitar solos during live shows were highly acclaimed and showcased his mastery of the instrument.
Jimmy Page's influence on subsequent generations of guitarists is immeasurable. His innovative playing style and creative approach to guitar techniques continue to inspire musicians worldwide.
In recognition of his contributions to music, Page has received numerous awards and honors, including induction into the Rock and Roll Hall of Fame (as a member of Led Zeppelin) and a Grammy Lifetime Achievement Award.
Beyond Led Zeppelin:
Following the disbandment of Led Zeppelin in 1980 after the death of drummer John Bonham, Page pursued various solo projects and collaborations. He released solo albums like "Outrider" (1988) and collaborated with artists like David Coverdale, Paul Rodgers, and The Black Crowes.
In the 1990s, Page participated in a Led Zeppelin reunion for the "Unledded" project.