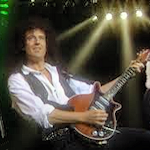 Brian May is an English musician, songwriter, and astrophysicist, best known as the lead guitarist of the legendary rock band Queen. He was born on July 19, 1947, in Hampton, Middlesex, England.
May began playing the guitar at the age of seven and went on to form his first band, Smile, in 1968, which later evolved into Queen with the addition of singer Freddie Mercury and drummer Roger Taylor. Queen became one of the most successful and influential rock bands of all time, with May's distinctive guitar sound and musical contributions playing a major role in the band's success.
May is known for his unique guitar style, which features a blend of heavy distortion, melodic phrasing, and intricate harmonies. He also developed his own custom guitar, the Red Special, which he built with his father when he was a teenager, and has used it throughout his career. He is known for using a British sixpence coin as a guitar pick, and for his preference for Vox AC30 amplifiers, both of which contribute to his recognizable sound.
In addition to his music career, May is also an accomplished astrophysicist and holds a PhD in the subject. He has contributed to several scientific publications and was even appointed Chancellor of Liverpool John Moores University in 2008.
May's contributions to music and science have earned him several awards and honors, including the CBE (Commander of the Order of the British Empire) in 2005 and the honorary title of Distinguished Supporter of the British Humanist Association in 2014. He continues to perform and record music, both as a solo artist and with Queen, and remains a beloved figure in the world of rock music.