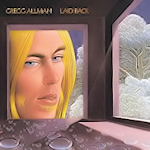 "Laid Back" is the debut solo album by Gregg Allman, the lead vocalist and keyboardist of the Allman Brothers Band. It was released in 1973, shortly after the Allman Brothers Band temporarily disbanded. The album was produced by Johnny Sandlin and recorded at Capricorn Studios in Macon, Georgia.
The album features a mix of original compositions by Allman, covers of songs by other artists, and a few tracks co-written with other musicians. The music is a departure from the blues and Southern rock sound of the Allman Brothers Band, and incorporates elements of country, soul, and gospel.
The album's most well-known track is "Midnight Rider," a song co-written by Allman and Robert Payne. The song was originally recorded by the Allman Brothers Band for their 1970 album "Idlewild South," but it gained new popularity when it was included on "Laid Back." Other notable tracks on the album include "Please Call Home," a ballad written by Allman, and "Will the Circle Be Unbroken," a traditional gospel song.
"Laid Back" was a commercial success, reaching #13 on the Billboard 200 chart. It received positive reviews from critics, who praised Allman's vocals and the album's diverse musical styles. The album has since become a classic of 1970s rock music and a landmark in Allman's career as a musician.
Gregg Allman genealogy and discography
Explore Gregg Allman music on Amazon...