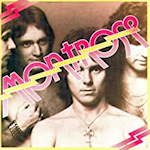 The self-titled album "Montrose" by the band Montrose was released in 1973. Montrose was an American rock band formed by guitarist Ronnie Montrose and featuring lead vocalist Sammy Hagar, bassist Bill Church, and drummer Denny Carmassi. The album is often regarded as a classic in the hard rock genre and is considered one of the band's most influential works.
"Montrose" is known for its energetic and heavy sound, blending elements of hard rock, blues, and early heavy metal. The album's production was handled by Ted Templeman, who had previously worked with bands like Van Morrison and The Doobie Brothers, and the result was a raw and powerful sound that became a blueprint for many subsequent hard rock bands.
The album kicks off with the iconic track "Rock the Nation," which immediately grabs the listener's attention with its driving guitar riffs and Hagar's powerful vocals. Other notable tracks on the album include "Bad Motor Scooter," a high-energy rocker that became one of Montrose's signature songs, and "Space Station #5," a song characterized by its heavy guitar riff and memorable chorus.
"Montrose" received positive reviews upon its release and has since become a cult favorite among rock enthusiasts. It showcased the impressive guitar skills of Ronnie Montrose, who was known for his innovative playing style and precise execution. Sammy Hagar's vocals also stood out, displaying his range and ability to deliver energetic and passionate performances.
Despite its critical acclaim, the album did not achieve significant commercial success upon its initial release. However, over time, it gained a strong following and is now recognized as a classic album in the hard rock genre. It influenced many musicians and bands, including Van Halen, who later recruited Sammy Hagar as their lead vocalist.
Montrose genealogy and discography
Explore Montrose music on Amazon...