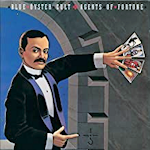 "Agents of Fortune" is the fourth studio album by the American rock band Blue Öyster Cult, released in May 1976. The album is considered to be one of the band's best and most popular works, featuring their signature hard rock and heavy metal sound with elements of psychedelic and progressive rock. Although a bit more polished and slicker than their previous three albums, it would prove to be BOC's breakthrough commercially.
The album's most well-known song is "Don't Fear the Reaper," which became a major hit and is now considered a classic rock staple. The song features haunting guitar riffs and harmonies, and its lyrics deal with the topic of mortality and the inevitability of death.
Other notable tracks on the album include "This Ain't the Summer of Love," which features a driving guitar riff and a catchy chorus, and "Sinful Love," which has a bluesy, slow-burning feel.
"Agents of Fortune" was produced by Murray Krugman and Sandy Pearlman, who had worked with the band on their previous albums. The album was well-received by critics and fans alike, and it helped to cement Blue Öyster Cult's reputation as one of the most innovative and influential hard rock bands of the 1970s.
Blue Oyster Cult genealogy and discography
Explore Blue Oyster Cult music on Amazon...