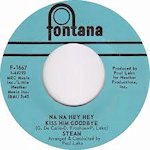 "Na Na Hey Hey Kiss Him Goodbye" is a song by the American group Steam. It was released in November 1969 as a single, and it became a surprise hit, reaching number one on the Billboard Hot 100 chart in the United States. The song features a simple, catchy chorus with the lyrics "Na-na, na-na-na-na, hey-hey-hey, goodbye."
The song was written and recorded by Gary DeCarlo, Dale Frashuer, and producer/writer Paul Leka, and attributed to a then-fictitious band Steam. The song was recorded in one take, and it features a prominent organ riff and a driving beat. The song was pieced together from a song the three had performed while in a previous band. Deciding it needed a chorus to make it longer, Leka improvised the "na, na, na" part while waiting for a lyrical inspiration. DeCarlo added the "hey, hey", and they decided to leave it at that. The chorus has become a chant popular at sporting events, particularly at baseball games when a pitcher is removed.
Despite its success, Steam was unable to follow up the song with another hit, and they eventually disbanded in 1970. However, "Na Na Hey Hey Kiss Him Goodbye" has remained a popular song, and it has been covered by numerous artists over the years, including Bananarama, Donna Summer, and The Supremes. The song has also been used in various films, TV shows, and commercials, and it has become a part of popular culture.