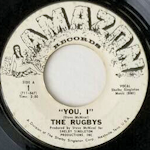 The Rugbys were a rock band from Louisville, Kentucky that formed in the mid-1960s. They started out playing cover songs by artists like The Beatles and The Rolling Stones, but soon began writing and performing their own original material. The latter part of 1969 and all of 1970 were spent touring the midwest and northeast, playing on the same bill with artists like Bob Seger, Grand Funk Railroad, the James Gang, and many others.
In 1969, The Rugbys released their debut album, "Hot Cargo," which included their hit single "You, I." Clocking in at only 2:50, the song opens with a droning buzz-saw, feedback-laden guitar note preceding the driving main riff and bass line, moving through a distorted wah-wah guitar solo over a trippy middle section before a key change leads to its raucous climax. "You, I" reached #24 on the Billboard Hot 100 chart and helped to establish The Rugbys as a nationally and internationally known recording act.
Rugbys genealogy and discography
Explore Rugbys music on Amazon...