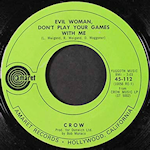 "Evil Woman (Don't Play Your Games With Me)" is a song by the American rock band Crow, which was released in August 1969. The song was written by lead guitarist Dick Wiegand and it was included on the band's debut album, "Crow Music."
"Evil Woman" is a hard-driving rock song that features a heavy guitar riff and a powerful vocal performance by lead singer David Wagner. The song's lyrics tell the story of a man betrayed by an "evil woman" to whom he says "Wickedness lies in your moistened lips."
The song's driving beat, memorable riff, and catchy chorus have made it a favorite among fans of hard rock and heavy metal. "Evil Woman" was a commercial success, reaching #19 on the Billboard Hot 100 chart in the United States. It would unfortunately be Crow's only single to break into the Top 40.
Trivia: The song was covered, also in 1969, by Black Sabbath and was released in England as the band's first-ever single. The song also appeared on the European version of the band's debut album, Black Sabbath, though it was excluded from versions released in other markets and was replaced by its B-side, "Wicked World", on the American version of the album. The song was not officially released in North America until 2002, when it was included on the compilation album Symptom of the Universe: The Original Black Sabbath 1970–1978.
Crow genealogy and discography
Explore Crow music on Amazon...