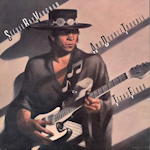 "Texas Flood" is the debut studio album by American blues guitarist Stevie Ray Vaughan, released June 13, 1983. The album was recorded in just three days at Jackson Browne's personal recording studio in Los Angeles and is widely considered to be one of the greatest blues albums of all time.
The album features Vaughan's unique and powerful guitar playing style, which blends elements of blues, rock, and jazz. His virtuosic guitar solos and soulful vocals are on full display throughout the album, and the musicianship of his backing band, Double Trouble, is equally impressive.
The album's title track, "Texas Flood," is a cover of a song by blues legend Larry Davis, and features Vaughan's signature guitar playing style and searing tone. Other standout tracks include "Pride and Joy," a catchy and upbeat blues number, and "Love Struck Baby," a fast-paced, rock-influenced track.
One of the defining characteristics of "Texas Flood" is its raw and live feel. The album was recorded almost entirely in one take, with minimal overdubs or studio effects, which gives it an authentic and intimate sound.
"Texas Flood" is considered to be a landmark blues album and a definitive statement from Stevie Ray Vaughan. It helped to establish Vaughan as one of the greatest guitarists of his generation and continues to inspire and influence musicians to this day.
Stevie Ray Vaughan genealogy and discography
Explore Stevie Ray Vaughan music on Amazon...