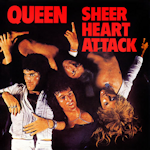 "Sheer Heart Attack" is the third studio album by the British rock band Queen, released on November 8, 1974, by EMI Records in the UK and Elektra Records in the US. The album marked a significant step forward for the band, both musically and commercially.
The album features a wide range of musical styles, including hard rock, pop, and progressive rock. It opens with the hard-rocking "Brighton Rock," which features a blistering guitar solo by Brian May. The album's lead single, "Killer Queen," became the band's breakthrough hit, reaching #2 on the UK singles chart and #12 on the US Billboard Hot 100.
Other notable tracks on the album include "Now I'm Here," a hard-rocking anthem that features a memorable guitar riff, and "In the Lap of the Gods… Revisited," a bombastic and theatrical track that showcases Freddie Mercury's powerful vocals.
"Sheer Heart Attack" was also notable for its innovative production techniques, with the band experimenting with multitracking and other studio effects to create a dense and layered sound.
"Sheer Heart Attack" is considered to be one of Queen's most important and influential albums, and is often cited as a key influence on the development of hard rock and heavy metal music in the 1970s and beyond.
Queen genealogy and discography
Explore Queen music on Amazon...