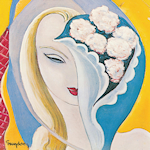 The Derek and the Dominos album "Layla and Other Assorted Love Songs" is considered a classic in the history of rock music. The album was released November 9, 1970 as a double album and is a collaboration between guitarist and singer-songwriter Eric Clapton, keyboardist Bobby Whitlock, bassist Carl Radle, and drummer Jim Gordon. It would be the only studio album released by the group.
The album is most famous for its title track, "Layla," which is considered one of the greatest rock songs of all time. The song was inspired by Clapton's unrequited love for Pattie Boyd, the wife of his friend George Harrison. The track features a distinctive riff played by Clapton and Duane Allman, who also played slide guitar on the song.
In addition to "Layla," the album features a mix of blues, rock, and soul-inflected tracks, including originals "Bell Bottom Blues," "Why Does Love Got to Be So Sad," and "Tell The Truth." The songs showcase Clapton's virtuosic guitar playing and his soulful vocals, as well as the strong musicianship of the other members of the band.
Five covers on the album include the blues standards "Nobody Knows You When You're Down and Out" (Jimmy Cox), "Key to the Highway" (Charles Segar, Willie Broonzy), and "Have You Ever Loved a Woman" (Billy Myles), a version of Jimi Hendrix's "Little Wing", and an up-tempo take on Chuck Willis's doo-wop ballad "It's Too Late".
"Layla and Other Assorted Love Songs" received critical acclaim upon its release and has since become a classic album in the rock canon. It remains a beloved album among fans and musicians alike, and continues to influence generations of rock musicians.
Derek and the Dominos genealogy and discography
Explore Derek and the Dominos music on Amazon...