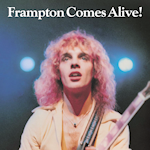 "Frampton Comes Alive!" is a live album by British musician Peter Frampton, released January 6, 1976. It is one of the best-selling live albums of all time and helped establish Frampton as a major star.
The album was recorded during Frampton's concerts in California and New York in 1975, and features some of his most popular songs such as "Show Me the Way," "Baby, I Love Your Way," and "Do You Feel Like We Do." The live performances on the album were recorded at various venues across the United States, and they showcase Frampton's exceptional guitar skills, as well as his dynamic stage presence and rapport with the audience.
"Frampton Comes Alive!" was a massive commercial success, reaching number one on the charts in both the United States and Canada, and selling over 16 million copies worldwide. It also earned Frampton three Grammy Award nominations, including Album of the Year.
One of the defining features of "Frampton Comes Alive!" is Frampton's use of the talk box, a guitar effect that modifies the sound of the guitar and creates a vocal-like sound by sending the guitar signal through a tube and into the player's mouth. The talk box can be heard on several tracks, including "Do You Feel Like We Do," which features a famous 14-minute talk box solo.
"Frampton Comes Alive!" is a seminal album that captured the energy and excitement of Frampton's performances and is widely regarded as one of the greatest live albums in rock history. It remains a beloved classic of the rock and roll genre, and a must-listen for fans of live music.
Trivia: The vinyl LP album 2-record set was pressed in "automatic sequence", with sides one and four on one record, with sides two and three on the other. The intent was to make it easier to listen through the whole album in sequence on automatic record changers.
Peter Frampton genealogy and discography
Explore Peter Frampton music on Amazon...