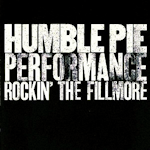 "Humble Pie Performance: Rockin' the Fillmore" is a live album by the English rock band Humble Pie, released in 1971. The album was recorded during four shows at the Fillmore East in New York City in May 1971 and features the classic lineup of the band, consisting of Steve Marriott on vocals and guitar, Peter Frampton on vocals and guitar, Greg Ridley on bass, and Jerry Shirley on drums.
The album is considered a landmark in the history of live recordings and is widely regarded as one of the best live albums of all time. The band's energetic performance and the raw, powerful sound of their music have made it a favorite among rock fans for over four decades.
The album features mostly covers, including their hits "I Don't Need No Doctor" and "Four Day Creep," as well as other classics like Ray Charles' "Hallelujah I Love Her So". "Stone Cold Fever", from their album "Rock On", is the lone original on the album.
The album received critical acclaim upon its release, with Rolling Stone calling it "a masterpiece" and praising the band's ability to capture the energy and excitement of their live shows on record. It has since been recognized as one of the greatest live albums ever recorded and has influenced generations of rock musicians.
Humble Pie genealogy and discography
Explore Humble Pie music on Amazon...