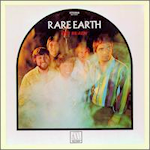 "Get Ready" is the second studio album by American rock band Rare Earth, released in 1969. The album is widely considered to be one of the band's best, featuring a blend of rock, soul, and funk elements that was ahead of its time.
The album includes the band's signature hit, a cover of the Temptations' "Get Ready," the radio edit of which became Rare Earth's first Top 10 single on the Billboard Hot 100 chart. Long-form jam tracks were popular at the time, sometimes taking up an entire side of an album. The "Get Ready" album version clocks in at 21m30s, with band members taking extended instrumental solos. The album also features several other notable tracks, including "Magic Key," "Tobacco Road," "In Bed," and a cover of Dave Mason's "Feelin' Alright".
"Get Ready" was produced by Tom Baird and Rare Earth, and was recorded at Motown's Hitsville U.S.A. studios in Detroit. The album's sound is characterized by the band's use of the Hammond B-3 organ, which adds a distinctive and soulful sound to the rock-based instrumentation.
"Get Ready" is a classic album that showcases Rare Earth's unique sound and style. It remains a favorite among fans of classic rock and soul music, and has been influential to many artists in the decades since its release.
Trivia: Smoky Robinson wrote the song "Get Ready" and produced the Temptations version in 1966. When the song only reached a disappointing No. 29 on the U.S. pop chart, Motown studio head Berry Gordy replaced Robinson as the Temptations' producer. Ironically, four years later, the Rare Earth version would go to No. 4.
Rare Earth genealogy and discography
Explore Rare Earth music on Amazon...