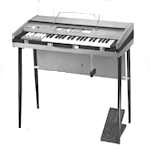 Farfisa (Fabbriche Riunite di Fisarmoniche) is an Italian manufacturer of electronic musical instruments, based in Osimo, Italy. The company gained widespread popularity in the 1960s and 1970s with the release of the Farfisa Compact Organ and the Farfisa Professional Organ, which were used by many famous musicians of that era, including The Doors, The Beatles, and Pink Floyd.
The Farfisa Combo Organ was designed to be a portable and versatile instrument that could produce a range of sounds, including classic organ tones, as well as guitar, harpsichord, and percussion sounds. The instrument was popular among a wide range of musicians and bands, including rock, pop, and jazz artists.
The Farfisa Combo Organ was known for its unique sound, which was achieved through the use of analog circuits and transistors. The instrument's distinctive tone has made it a favorite among vintage instrument enthusiasts, and it continues to be used in modern music recordings and performances today.