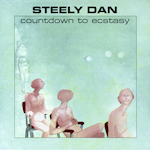 "Countdown to Ecstasy" is the second studio album by the American rock band Steely Dan, released in July 1973. The album features a unique blend of rock, jazz, and funk, with complex arrangements and insightful lyrics.
The album's opening track, "Bodhisattva," is a standout with its driving guitar riffs and catchy chorus. Other notable tracks include "Show Biz Kids," a commentary on the excesses of Hollywood and the music industry, and "My Old School," a nostalgic look back at the band members' college days.
Musicians who contributed to the album included Jeff "Skunk" Baxter on guitar, Denny Dias on guitar, and Jim Hodder on drums, along with Steely Dan's core members, Donald Fagen and Walter Becker.
"Countdown to Ecstasy" received positive reviews upon its release, with critics praising the band's musicianship and songwriting. It has since been recognized as a classic album and has been included in several "best of" lists over the years.
Steely Dan genealogy and discography
Explore Steely Dan music on Amazon...