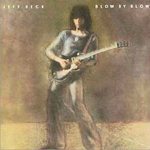 Jeff Beck is an English guitarist known for his innovative and versatile style, which has made him one of the most influential guitarists of the past century. He was born on June 24, 1944, in Wallington, Surrey, England. He passed away January 10, 2023.
Beck began playing guitar at a young age and was soon recognized for his technical prowess and inventive approach. In the early 1960s, he joined the Yardbirds, a popular British band that also featured Eric Clapton and Jimmy Page at different times. During his time with the Yardbirds, Beck helped redefine the sound of rock guitar, using distortion, feedback, and other effects to create new sounds and textures.
After leaving the Yardbirds, Beck formed his own band and continued to push the boundaries of guitar playing with his virtuosic and experimental approach. He released several highly regarded albums, including "Truth" and "Beck-Ola," which showcased his talents as a guitarist and composer.
Over the course of his career, Beck collaborated with a wide range of artists, from Stevie Wonder and Rod Stewart to Mick Jagger and Tina Turner. He also received numerous awards and accolades, including induction into the Rock and Roll Hall of Fame in 2009.
Beck's style is characterized by his ability to combine a wide range of influences, including rock, jazz, blues, and classical music, into a unique and highly personal sound. He is renowned for his use of the tremolo arm, which he used to create a range of dynamic effects, as well as his highly technical playing style and distinctive tone.
Overall, Jeff Beck is considered to be one of the greatest guitarists of all time, and his contributions to the development of rock guitar continue to inspire generations of musicians.
Jeff Beck genealogy and discography
Explore Jeff Beck music on Amazon...