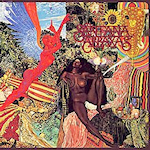 Carlos Santana is a renowned Mexican-American guitarist and songwriter, widely regarded as one of the greatest guitarists of all time. He was born on July 20, 1947, in Autlán de Navarro, Mexico, and raised in San Francisco, California.
Santana's music is a fusion of rock, blues, jazz, and Latin American rhythms. He first gained recognition with his band Santana, which formed in the late 1960s and released their debut album in 1969. The band's second album, "Abraxas," released in 1970, contained the hit single "Oye Como Va," which became a worldwide sensation and helped establish Santana as a major force in music.
Santana's guitar style is known for its unique blend of melodic and rhythmic elements. He often incorporates Latin American rhythms, such as salsa and samba, into his playing, and he has a distinctive tone that is instantly recognizable. His playing has been praised for its passion, soulfulness, and technical virtuosity.
In addition to his work with Santana, Carlos has collaborated with numerous other artists throughout his career, including John McLaughlin, Herbie Hancock, and Eric Clapton. He has won numerous awards and accolades for his music, including ten Grammy Awards, three Latin Grammy Awards, and a Billboard Century Award.
Beyond his music, Carlos Santana is known for his spiritual beliefs and his activism. He has been a vocal advocate for social justice and the rights of indigenous people, and he has established several charitable foundations to support these causes.
Santana genealogy and discography
Explore Santana music on Amazon...