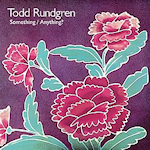 "Something/Anything?" is a double album by American musician Todd Rundgren, released in February 1972. The album was his third solo release and is considered one of his best and most commercially successful works.
Three sides of the album were recorded at I.D. Sound Studios, Los Angeles, and on an 8-track recorder and some studio equipment at his rented home in the Hollywood Hills, with Rundgren playing all instruments and singing all vocals, as well as being the producer. Two songs on side three were recorded with other musicians live in studio at Bearsville Studios in Woodstock, New York. The final side contained a number of tracks recorded live in the studio without any overdubs, save for a short snippet of archive recordings from the 1960s.
The album features a diverse range of musical styles, from power pop and rock to soul and ballads, and is notable for Rundgren's mastery of multiple instruments, including guitar, piano, bass, and drums, as well as his exceptional vocal range.
The album's first side, described as "A Bouquet of Ear-catching Melodies", features a collection of short, catchy pop songs, including the hit single "I Saw the Light", "It Wouldn't Have Made Any Difference" and "Wolfman Jack". The second side is described as "The Cerebral Side", while the third side, "The Kid Gets Heavy", features a mix of songs, including the single "Couldn't I Just Tell You".
The final side of the album, "Baby Needs a New Pair of Snakeskin Boots (A Pop Operetta)" features songs recorded live in studio at The Record Plant in New York, and includes the hit "Hello, It's Me," which was a reworked version of a song from Rundgren's previous band, The Nazz.
"Something/Anything?" was a critical and commercial success, reaching #29 on the US Billboard 200 chart and earning Rundgren a large and loyal fanbase. It has since been widely regarded as a classic of the singer-songwriter genre, and was included in Rolling Stone's list of the 500 Greatest Albums of All Time.
Todd Rundgren genealogy and discography
Explore Todd Rundgren music on Amazon...