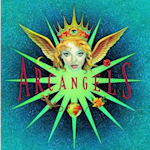 The self-titled album "Arc Angels" was released in 1992 by the American rock band of the same name. The band featured guitarists and vocalists Charlie Sexton and Doyle Bramhall II. Bassist Tommy Shannon and drummer Chris Layton previously backed up Stevie Ray Vaughan as Double Trouble. The group formed while jamming at the Austin Rehearsal Complex (ARC) in Austin, TX.
"Arc Angels" was the band's only studio album, and it was well-received by critics and fans alike. The album features a mix of blues, rock, and soulful ballads, showcasing the band's exceptional musicianship and songwriting.
Some of the standout tracks on the album include "Living in a Dream," "Sent by Angels," "Sweet Nadine," and "See What Tomorrow Brings." The album's production was handled by Little Steven Van Zandt of Bruce Springsteen's E Street Band, who helped the band achieve a polished and cohesive sound.
Unfortunately, despite the critical acclaim, the band didn't achieve significant commercial success with the album, and they disbanded shortly after its release. However, the album has since gained a cult following and is still regarded as a classic of '90s rock.
In Spring 2023, a reformed Arc Angels has appeared as special guests at two Santana: Miraculous Supernatural Tour shows in Texas.
Arc Angels genealogy and discography
Explore Arc Angels music on Amazon...