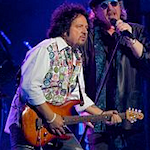 Steve Lukather, born on October 21, 1957, is an American guitarist, singer, songwriter, and record producer. He is best known as the co-founder and lead guitarist of the rock band Toto. Lukather's versatile playing style and exceptional guitar skills have made him one of the most respected and sought-after guitarists in the music industry.
Lukather was born in Los Angeles, California, and began playing guitar at a young age. He was heavily influenced by rock and blues musicians such as Jimi Hendrix, Jeff Beck, Eric Clapton, and Jimmy Page. Lukather's musical career took off in the late 1970s when he co-founded Toto with his childhood friends David Paich and Jeff Porcaro.
Toto achieved great success in the late 1970s and early 1980s with hits like "Hold the Line," "Rosanna," and "Africa." Lukather's distinctive guitar playing and his ability to seamlessly blend different styles, from rock to jazz to R&B, contributed to the band's unique sound. He became known for his melodic guitar solos, tasteful phrasing, and precise technique.
In addition to his work with Toto, Lukather has been an in-demand session guitarist. He has collaborated with numerous artists and played on hundreds of recordings across various genres. Some notable collaborations include sessions with Michael Jackson, Paul McCartney, Stevie Nicks, Elton John, and many more. Lukather's guitar playing can be heard on some of the biggest hits of the 1980s and beyond.
Lukather has also released several solo albums. His debut solo effort, "Lukather," was released in 1989 and showcased his diverse musical influences. He has since released several more albums, including "Candyman" (1994), "Ever Changing Times" (2008), and "Transition" (2013). Lukather's solo work demonstrates his versatility as a musician, incorporating elements of rock, jazz, pop, and fusion.
Throughout his career, Steve Lukather has received numerous accolades and awards for his contributions to music. He is a five-time Grammy Award winner and has been recognized for his guitar skills by publications like Guitar Player magazine. Lukather's influence as a guitarist extends far and wide, and he continues to inspire aspiring musicians with his playing style and musicality.
In recent years, Lukather has remained active both as a solo artist and as a member of Toto. He has also participated in various tribute concerts and collaborated with other musicians on special projects. For many years, he has been a core member of Ringo Starr's All Starr Band, a touring group made up of musicians from several classic rock bands, which performs Beatles hits as well as those by others who happen to be in the band's current lineup. Lukather's passion for music, his dedication to his craft, and his incredible guitar skills have solidified his status as one of the greatest guitarists of his generation.