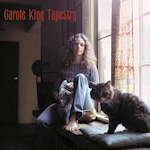 "Tapestry" is a critically acclaimed album by American singer-songwriter Carole King, released in 1971. It is considered to be one of the greatest albums of all time, and it has sold over 25 million copies worldwide.
The album features 12 tracks, most of which were written by King herself, either alone or in collaboration with other songwriters such as Gerry Goffin and Toni Stern. Some of the album's most iconic tracks include "I Feel the Earth Move," "It's Too Late," "You've Got a Friend," and "(You Make Me Feel Like) A Natural Woman," which was famously covered by Aretha Franklin.
"Tapestry" is known for its confessional and introspective lyrics, which were ahead of their time in the early 1970s. King's voice is soulful and expressive, and her piano playing is both intricate and powerful. The album was produced by Lou Adler, who helped to bring out the best in King's songs and performances.
"Tapestry" won four Grammy Awards in 1972, including Album of the Year, Best Female Pop Vocal Performance, Record of the Year for "It's Too Late," and Song of the Year for "You've Got a Friend." It continues to be regarded as a classic album and a landmark in the singer-songwriter genre.
"Tapestry" would become the best-selling pop album of all time until Peter Frampton's 1976 live album "Frampton Comes Alive!" eclipsed it. At 318 weeks on the US Billboard 200, it remained the longest-charting album by a solo female artist until Adele's "21" in 2017.
Carole King genealogy and discography
Explore Carole King music on Amazon...