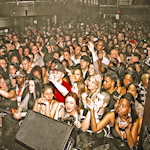 The 1960s and 1970s were a golden era for classic rock music, and many of the live venues of that time have since become legendary. Here are a few examples:
Fillmore West and East - These two venues, located in San Francisco and New York City respectively, were owned by legendary concert promoter Bill Graham. The Fillmore West hosted acts such as The Grateful Dead, Jefferson Airplane, and Janis Joplin, while the Fillmore East featured performances by The Allman Brothers Band, Led Zeppelin, and Pink Floyd.
Winterland, also in San Francisco, was originally an ice skating rink and music venue. It was converted for exclusive use as a music venue in 1971 by concert promoter Bill Graham and became a regular performance site for many rock artists. Many classic live albums were recorded at Winterland, most notably the majority of the performances on Peter Frampton's "Frampton Comes Alive!"
The Troubadour - This West Hollywood venue was known for its intimate setting and legendary performances by artists such as Neil Young, Joni Mitchell, and James Taylor.
The Whisky a Go Go - Located on the Sunset Strip in Los Angeles, this venue was one of the first to embrace rock music and became a hotspot for bands like The Doors, The Byrds, and The Who.
The Rainbow Room - This New York City club was a popular spot for rock musicians in the 1970s, with acts like Kiss, Aerosmith, and Queen all performing there.
The Roxy - Also located on the Sunset Strip, this venue was a popular spot for punk and new wave acts such as The Ramones, Blondie, and Talking Heads.
The Fillmore Auditorium - Located in Denver, Colorado, this venue hosted many of the same acts as the Fillmore West and East, including The Grateful Dead and Jefferson Airplane.
Cobo Arena - This 12,000 seat Detroit venue hosted many rock acts including The Who, Black Sabbath, The Rolling Stones, Jimi Hendrix, Alice Cooper, Jefferson Airplane, Thin Lizzy, and Queen. Bob Seger recorded all of "Live Bullet" and part of "Nine Tonight" at Cobo. Yes recorded two songs for their 1980 "Yesshows" album, and Kiss recorded most of "Alive!" there.
CBGB's - Located in New York City's East Village, was originally opened as a venue for country, bluegrass, and blues (hence the name CBGB), but it soon became a hub for punk and new wave bands. The Ramones, Talking Heads, Blondie, and Patti Smith were among the many iconic artists who got their start at CBGB's.
The Warehouse - This venue, an actual warehouse, was located in New Orleans' riverfront warehouse district, and which saw so many big names come through it over the years, some nicknamed it "Fillmore South". The Warehouse played an important role in the development of southern rock, hosting acts like ZZ Top, Lynyrd Skynyrd and The Allman Brothers Band, who played there so often they were referred to as the "house band".
Red Rocks Amphitheatre - This 9500+ seat outdoor venue, 10 miles west of Denver, Colorado, was built into a rock structure in 1936, and formally dedicated in 1941. A variety of shows were performed over the years by musical and non-musical acts alike. The visual uniqueness of the setting has made it a popular venue for live recordings. A moratorium on rock acts was instituted after an incident at a 1971 Jethro Tull concert, where nearly 1000 non-ticket holders arrived at the already sold out show, resulting in police deploying tear gas on the unruly mob. A lawsuit five years later resulted in its lifting.
These venues played a significant role in the development and spread of classic rock music, and many of them still exist today as iconic live music venues.