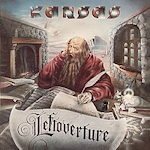 "Leftoverture" is the fourth studio album by the American rock band Kansas, released October 21, 1976. The album is considered one of the band's most popular and successful works, featuring some of their most recognizable songs. Kansas recorded the album at Studio in the Country in Bogalusa, Louisiana.
The album's title is a play on the term "leftover," which refers to the creative process behind the album. Kansas had a number of unfinished songs from previous albums and tour soundchecks, and these were combined with new material to create "Leftoverture," which had previously been a working title for what ultimately became the multi-sectioned "Magnum Opus" on the record.
The album's lead single, "Carry On Wayward Son," became one of Kansas's biggest hits and remains a classic rock radio staple. Other standout tracks on the album include "The Wall," "Miracles Out of Nowhere," and "Magnum Opus."
"Leftoverture" showcases Kansas's signature blend of progressive rock, hard rock, and classical music influences, featuring complex musical arrangements and intricate instrumentation. The album's lyrics touch on themes of spirituality, self-discovery, and personal growth.
"Leftoverture" is widely regarded as a landmark album in Kansas's career and a classic of 1970s rock music. It has sold over five million copies in the United States and continues to be a favorite among fans of the band and the genre.
Kansas genealogy and discography
Explore Kansas music on Amazon...