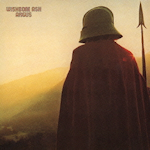 "Argus" is the third studio album by the British rock band Wishbone Ash, released April 28, 1972. It is considered one of their most influential and beloved albums, as well as a classic of the progressive rock genre.
The album features the twin lead guitar work that became a signature sound for the band, with Andy Powell and Ted Turner playing off each other in intricate and harmonious ways. The rhythm section of bassist Martin Turner and drummer Steve Upton provide a solid foundation for the guitar work, while also adding their own melodic touches.
The album is perhaps best known for its opening track, "Time Was," which features a memorable guitar riff and soaring vocals. Other highlights include the hard-rocking "Blowin' Free," the epic "The King Will Come," and the acoustic ballad "Throw Down the Sword."
"Argus" received critical acclaim upon its release and has since been hailed as a classic of the progressive rock genre. It has been cited as an influence by many other musicians, and has been praised for its intricate guitar work, melodic songwriting, and tight arrangements. It is a must-hear album for fans of classic rock and progressive rock.
Wishbone Ash genealogy and discography
Explore Wishbone Ash music on Amazon...